Information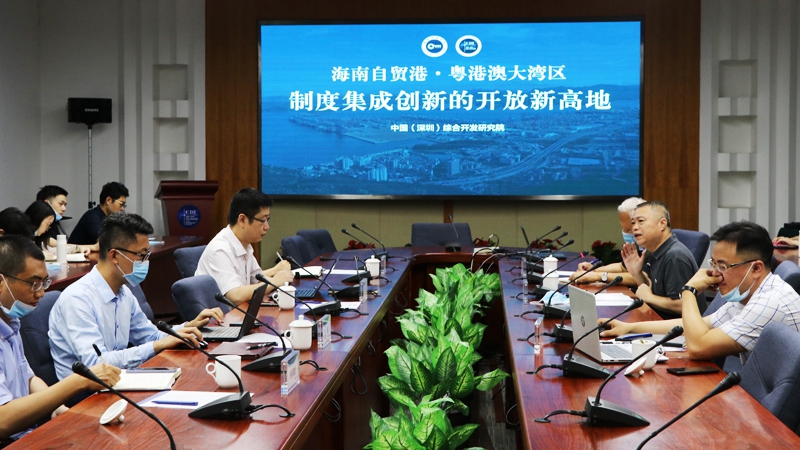 On June 1, 2020, the Overall Plan for the Construction of Hainan Free Trade Port was released, making China's Hainan Province the world's largest free trade zone. To better understand its implications, CDI researchers gave an interpretation and analysis of the policies laid out in the plan.
Date: June 7, 2020
Host: CDI
Theme: Innovation of Institutional Integration – Hainan Free Trade Port
Highlights
Situated on an island to the south of China's mainland, Hainan Province is opening up to the rest of the world more than ever. The Overall Plan for the Construction of Hainan Free Trade stressed the introduction of a zero-tariff policy, facilitation of the free flow of production factors and the fact that Hainan will be on top of the high level of international economic and trade rules. As the biggest special economic zone in China thus far, Hainan Free Trade Port is likely to become the new face of opening-up. The plan integrates existing opening-up measures in China with Hainan's own characteristics, and these are highlighted and featured below.
To facilitate free trade and investment with highest standards around the globe.
As well as the zero-tariff policy, items that are not exempt from tariffs will be processed with more efficiency and reduced barriers to ease the coming and going of imported goods in Hainan. At the same time, the port will take advantage of negative lists on cross-border services so that foreign service providers are treated the same as their local counterparts. Ultimately, the port will aim to encourage free trade and cross-border services as far as the laws and regulations will allow. In terms of attracting foreign investments, market access will be loosened for foreign businesses and investments by simplifying approval procedures and decreasing operational costs.
To apply globally-competitive taxation policies.
Establishing a high-quality taxation system that is compatible with the port will attract foreign trade and investment and, above all, is essential in order to enhance Hainan's international competitiveness. On one hand, the zero-tariff policy and optimisation of corporate and individual income taxation will be gradually implemented, with the goal of creating a preferable business environment. On the other hand, in alignment with China's taxation reform, it is necessary to explore simplifying the taxation system, strengthening tax collection and management, and reinforcing tax evasion detection to prevent Hainan from becoming a haven for tax evasion.
To pave the way for cross-border capital flow.
Cross-border capital flow is an important indicator for international free trade ports, and a critical prerequisite for facilitating trade and investment. Based on existing local and foreign currency accounts and free trade accounts, a multifunctional free trade account system will serve as a platform for financial opening-up, which is essential for the development of trade and real economy. Related policies should consider how to better assist cross-border investment and financing. In addition, the opening-up of financial products should be paced to avoid causing instability in the domestic financial market.
To implement transportation policy that is highly open and enabling.
A high-standard free trade port must be facilitated with transportation policies that are highly open and efficient. As Yangpu becomes a port of registry, it is an opportunity to further develop Yangpu Port and construct the new western land-sea corridor as an international shipping hub. Relaxed airspace and airway control, as well as traffic rights, are needed to stimulate domestic and foreign airlines' operation into Hainan. Meanwhile, transportation and customs capacity and movement between Hainan and the rest of China should also be strengthened and improved through the use of digitalised and smart equipment.
To underscore tourism, modern services and high-tech industries.
Taking into account its own features and the resources available, Hainan will include international capabilities, leading technology and innovative ideas that will aim to improve its industry competitiveness. An international tourism and shopping destination will be better able to integrate culture, sports, health care and eldercare in terms of development in the tourism sector. As for modern services, innovation factors will be collected and the role of international shipping hub will be consolidated to form a maritime service system with a global competitive advantage. As for high-tech industry, the emphasis ought to be on the Internet of Things, artificial intelligence, block chain, digital trade, deep sea and space industries, and advanced manufacturing.
To prioritise the safe and sound flow of data in the overall institutional design.
Proposals to improve infrastructure, communications market access and cross-border data services are suggested in Hainan to encourage the collation and cross-border movement of data. Next, communication resources and businesses will be further opened-up to accelerate the development of a digital economy, while data flow and information security will both be safeguarded by institutional innovation.
To improve regulation and government service to achieve sustainable development.
Comprehensive regulatory measures and service systems will ensure that preferential policies can be applied to companies that choose to settle in Hainan as well as protecting their interests and legal rights while facilitating trade and investment. In the meantime, the establishment of a legal system will create a sound environment, based on the law of Hainan Free Trade Port as well as local legislation and commercial dispute settlement mechanism.