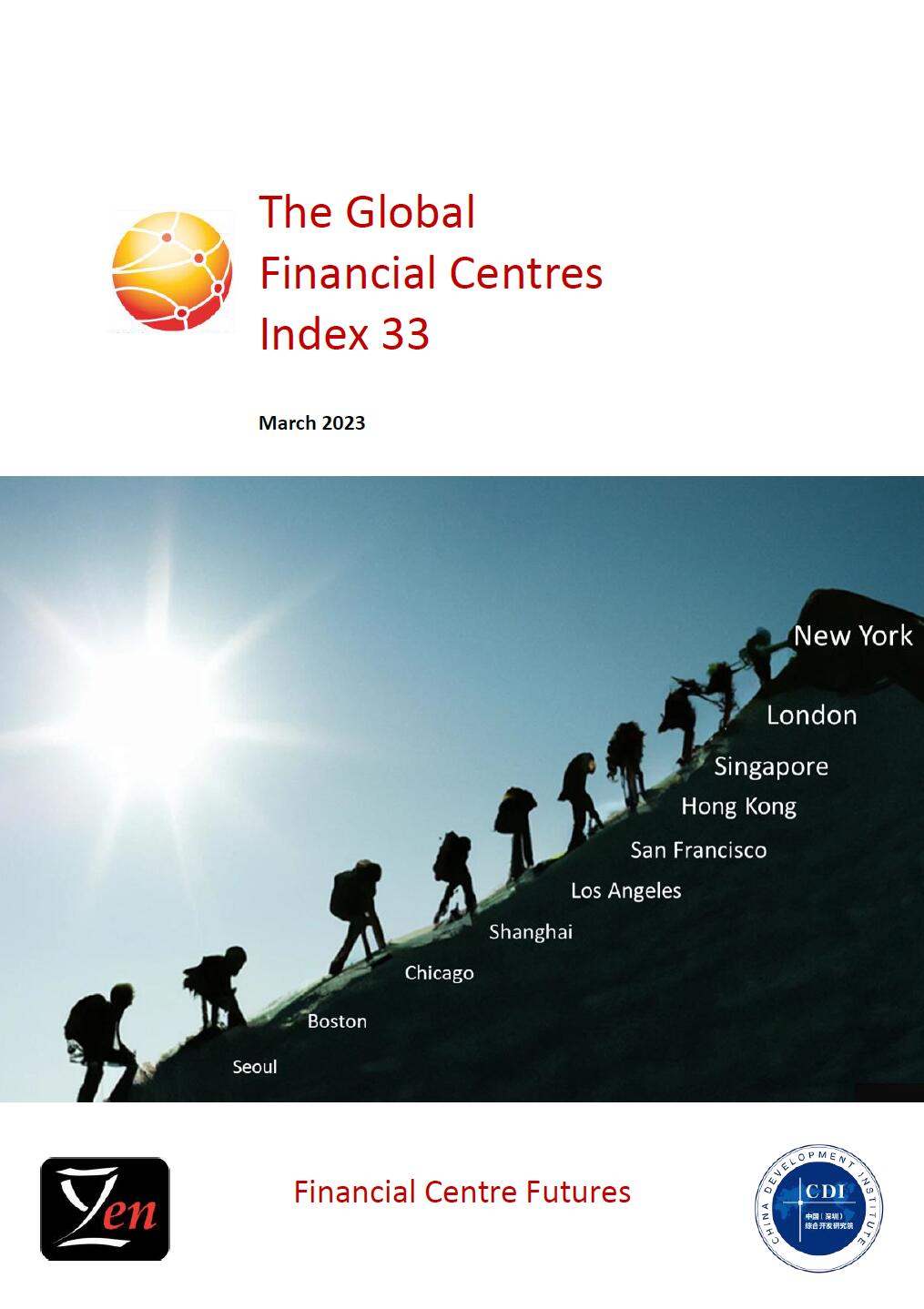 Click here to download the full report as PDF.
The thirty-third edition of the Global Financial Centres Index (GFCI 33) was jointly published by Z/Yen and CDI on 23 Mar 2023. GFCI 33 provides evaluations of competitiveness and rankings for 120 financial centres around the world. The GFCI serves as a valuable reference for policy and investment decision-makers.
The GFCI 33 was compiled using 153 instrumental factors. These quantitative measures are provided by third parties including the World Bank, the Economist Intelligence Unit, the OECD and the United Nations. The instrumental factors were combined with 61,449 assessments of financial centres provided by 10,252 respondents to the GFCI online questionnaire.
The average rating of centres in the index was close to the average in GFCI 32, just 0.06% lower. However, within this average, 31 out of the top 40 centres in the index fell in the ratings, while half of the centres in the bottom half of the index improved their rating. While there is considerable variation across centres, this outcome suggests that confidence in financial centres and the world economy remains high, with a recognition that inflation levels are falling and economic growth generally secure, even with the instability caused by the continuing war in Ukraine.
US centres performed well, with five US centres now in the top 10, reflecting the strength of the US economy. Leading Chinese centres fell back a little. London retains its position in second place in the index, despite some predictions of a downturn in London's fortunes. This suggests that London retains its reputation in financial services and that the UK's financial services sector remains competitive.
We are able to assess 114 centres for their FinTech offering. New York retains its leading position in the FinTech ranking, followed by San Francisco. London moved up one place to third, and Shenzhen rose three places to take fourth position. Los Angeles, Boston, Chicago, and Shanghai continue to feature in the top 10, while Singapore and Washington enter the top 10 for FinTech, displacing Beijing and Hong Kong.