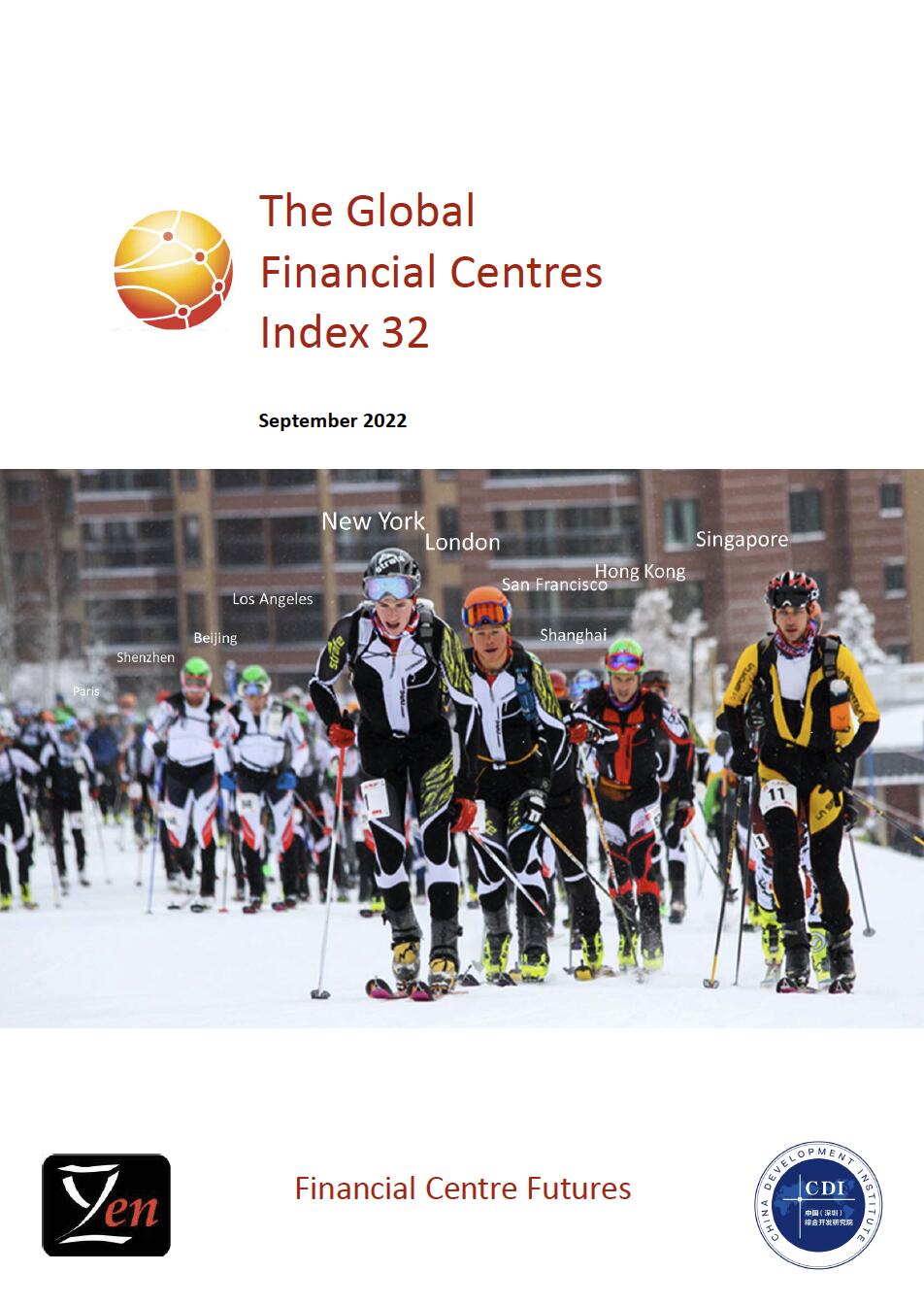 Click here to download the full report as PDF.
The thirty-second edition of the Global Financial Centres Index (GFCI 32) was jointly published by Z/Yen and CDI on 22 Sept 2022. GFCI 32 provides evaluations of competitiveness and rankings for 119 financial centres around the world. The GFCI serves as a valuable reference for policy and investment decision-makers.
The GFCI 32 was compiled using 151 instrumental factors. These quantitative measures are provided by third parties including the World Bank, the Economist Intelligence Unit, the OECD and the United Nations. The instrumental factors were combined with 66,121 assessments of financial centres provided by 11,038 respondents to the GFCI online questionnaire.
Overall the average rating of centres in the index improved 4.83% from GFCI 31, regaining the average ratings last recorded in GFCI 27 in March 2020. This suggests that there is confidence in financial centres themselves, even against a background of the Russian-Ukraine conflict, economic and energy instability, and inflationary pressures.
New York leads the index, with London second, ahead of Singapore in third place, which has overtaken Hong Kong in fourth position. Paris returned to the top ten in the index, replacing Tokyo which fell to 16th place, perhaps reflecting a comparatively slow consumer recovery following the Covid-19 pandemic. London continues to lead in the Western European region, and rose 5 points in the ratings. Other leading Western European centres also gained in the ratings. Performance in Asia/Pacific centres was balanced, with half of these centres maintaining or improving their rank, and half falling in the rankings.
We are able to assess 113 centres for their FinTech offering. New York retains its leading position in the FinTech ranking, followed by San Francisco, Los Angeles, and London, with Shanghai and Beijing in fifth and sixth place. Chinese, US, and German centres performed well in the Fintech ratings.