Information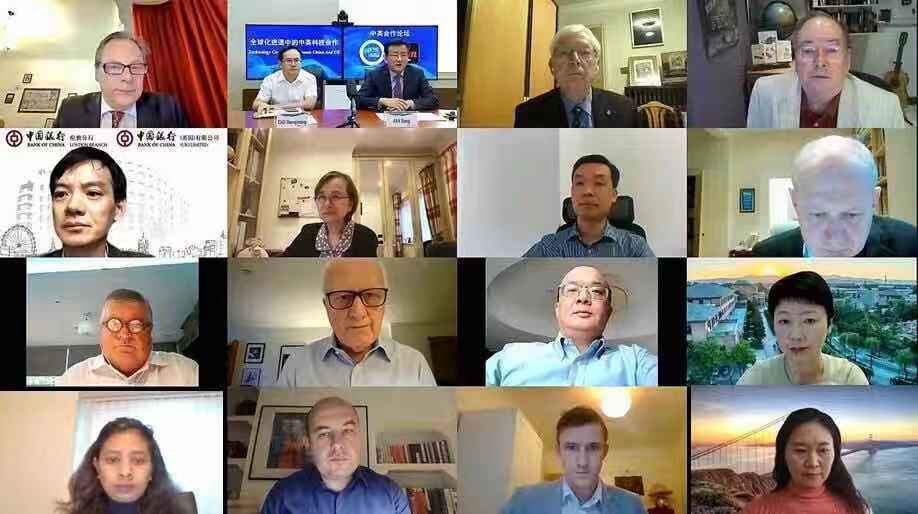 As two major economies in Asia and Europe, the cooperation between China and the UK in the field of scientific and technological innovation has maintained stable development. On October 21st, the China Development Institute and the Z/Yen jointly held a webinar. Think tank experts, government and business representatives from China and the UK have discussed strengthening exchanges and cooperation in economic, technological and other fields between the two countries in the current complex and volatile international situation.
Date:October 21, 2020
Host: CDI, Z/Yen
Theme: Technology cooperation between China and UK
Program
15:30 Welcome Remarks
Prof. Fan Gang, President, China Development Institute
15:40 Regulatory Co-operation for Technology Development
Prof. John Loughead, Chief Scientific Adviser, Department for Business, Energy and Industrial Strategy
Prof. Zhang Xiaoyan, Vice Dean, PBC School of Finance, Tsinghua University
16:00 Technology Co-operation in Engineering/Manufacturing
Prof. Qiao Yu, Director, Institute of Advanced Computing and Digital Engineering, Chinese Academy of Sciences
Prof. David Bogle, Professor of Chemical Engineering and Pro-Vice-Provost of Doctoral School, University College London
16:20 Fintech And China-UK Co-operation
James York, Founder, Worry+Peace, Deputy Chair Insurtech UK
Prof. Shen Yan, Deputy Director, Institute of Digital Finance, Peking University
16:40 The Digital Economy, AI, And Opportunities for Co-operation
Dr. Zheng Zhibin, General Manager of Global Smart City Business Department, HUAWEI
Prof. Mirco Musolesi, Professor of Computer Science, University College London
17:00 A Further Perspective on Manufacturing cooperation
Prof. Jane Jiang, Royal Academy of Engineering/Renishaw Chair in Precision Metrology
17:05 Response to The Presentations
Barry Brooks, Immediate Past-Master, Worshipful Company of Engineers, Trustee, Engineers Trust
17:10 Discussion
Dr. Cao Zhongxiong, Director of New Economy Research Department, China Development Institute
17:25 Conclusions and Themes:
Prof. Michael Mainelli, Executive Chairman, Z/Yen
Highlights
Cooperation and Exchanges
China and the UK have more than 40 years of history of cooperation in the field of scientific and technological innovation, involving manufacturing engineering, artificial intelligence, biomedicine and new energy. Since the two countries began scientific and technological cooperation, many more Chinese research institutions and enterprises have established cooperative relationships with British universities. In the current environment, Chinese and British governments need to continue working on building communication channels between enterprises and research institutions of both sides, in order to reduce the barriers of international exchanges. Moreover, the industry associations of the two countries should make better use of the 'bridge' role to promote the exchange of talents and the cooperation between enterprises, assist the collaboration on innovative projects, and maintain the normal two-way communication between the two countries.
Complementary Advantages
Presently, China is accelerating their innovation-driven development and improving the independent innovation capabilities of science and technology, engineering and other industries. In addition, China has a considerable market size, massive data advantages, a complete industrial system and diversified consumer demands. Meanwhile, the UK has established world-leading research and innovation capabilities and is actively working on the 'Global Britain' strategy. Hence, the two countries can complement each other with their advantages and promote mutual development through innovative cooperation. Importantly, the cooperation should not be focused solely on scientific research, but also along the entire innovation value chain (i.e. from basic research, applied research, research and development to industrialization).
Innovation and Risk Management
During the COVID-19 pandemic, the application of innovative technologies played a positive role in alleviating the pressure on small and medium-sized enterprises and their capital turnover, promoting the resumption of work and production. However, emerging technologies also engender risks and changes. Thus, the two governments should follow up on innovation needs in a timely manner and proactively provide corresponding management and services. Furthermore, the regulatory approach needs to be constantly improved and innovated to adapt to the rapidly developing technology. It is instrumental in creating a safe, inclusive and open environment for enterprises by promoting innovative methods such as the 'regulatory sandbox'. In addition, China and the UK should actively participate in construction of international financial technology governance in order to enhance cooperation in the field of financial technology supervision.
Explore New Cooperation Modes
The China-UK scientific and technological cooperation has continued steadily for many years. However, it is now facing severe external situations. Nevertheless, both China and the UK should adopt cooperative attitude and further collaborate on their advantages and needs in order to generate more cooperative achievements in the frontier fields of future industries.
Specifically, China-UK cooperation should focus on the future and explore new cooperation modes. Firstly, China and the UK should actively promote the integration of strategies on innovation-driven and industrial development, as well as maintain policy exchanges and dialogues. They should also jointly participate in the governance of global innovation and the formulation of rules and standards on global innovation. Secondly, China and the UK need to make good use of the existing platforms, enhancing the platforms' capabilities of operation and resource integration and carry out industry-university-research cooperation in order to transform basic research to innovative achievements. Thirdly, China-UK technological cooperation in third-party markets can be further strengthened. On the one hand, the UK can utilize their financial and scientific research advantages as well as rich overseas investment experience to help China reduce the investment risks along the line area. On the other hand, China can leverage their advantages of technology application to better serve industrial and commercial development by transforming scientific and technological achievements.