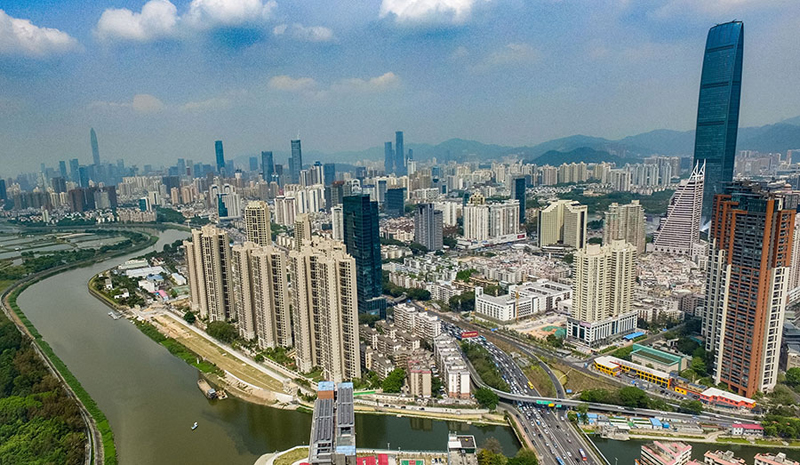 The decision by China's central leadership to lift the status of Shenzhen from a special economic zone to a pilot demonstration area has underscored the country's intention to undertake bolder economic, administrative and legal reforms and to explore a new and unique development path to foster high-quality growth, experts said.
The southern Chinese city has developed from a small fishing village into a modern metropolis, serving as a trailblazer and test bed of China's market reform and opening-up policy introduced by the late leader Deng Xiaoping four decades ago. Now the city is tasked with a new mission - to build itself into a pilot demonstration zone of socialism with Chinese characteristics guided by President Xi Jinping's thoughts.
The elevated status of Shenzhen is not only a recognition of the city's success but also a recognition of the country's development model featuring a distinctly Chinese approach that is different from the Western model, experts said.
"Socialism with Chinese characteristics is not a hollow political slogan or a vague ideological concept. Shenzhen's development and success is a concrete example and best illustration of the idea," said Guo Wanda, executive vice-president of the China Development Institute, a think tank in Shenzhen.
"People could raise questions such as whether capitalism is the only way to achieve high-quality development, or are there other models? The central leadership's decision about Shenzhen highlighted China's confidence in its own political and economic system to build a better society," Guo said.
Shenzhen is now expected to take a leading role in pushing for more reforms and to develop itself into a national model of high-quality development and a world-class city with global influence, the ambitious goals set in the guideline issued by the central government on Aug 18.
"The city's new mission is not just about exploring and experimenting. It is also about coming up with a development formula that can be replicated or borrowed by others," Guo said.
It is not a coincidence that Shenzhen was picked by the central government to be the pilot zone. Under the leadership of the Communist Party of China, Shenzhen's growth features a thriving private economy with strong entrepreneurship. The city is the innovation hub of the country and the site of the headquarters of many high-tech companies, including Huawei and Tencent.
Last year, Shenzhen's GDP rose to 2.4 trillion yuan ($337 billion), surpassing its neighbor Hong Kong.
More important, the city, after many years of double-digit growth, still manages to maintain a strong growth momentum, with its GDP growing at 7.4 percent in the first half of this year - higher than Shanghai's 5.9 percent and Beijing's 6.3 percent.
Shenzhen is also a young city, with the average age of its 13 million residents at around 32 as of the end of 2016, and it continues to draw talent and professionals from other parts of China and foreign countries.
Under the new guideline, technology and financial services will be the two main pillars that drive Shenzhen's future growth. The city will build a modern economic system driven by innovation, and a national scientific research center will be established there. It will also build a highly innovative manufacturing base for products including high-end telecommunications and medical equipment.
The city will be a frontier to accelerate the reform of State-owned enterprises. It will be a pilot area to explore the reform of the country's foreign exchange policy and play a key role of boosting the global profile of the renminbi. It will also further open its financial market to Hong Kong and Macao to boost two-way trading of financial products.
Unlike its previous role as the special economic zone, which mainly focused on making market economy compatible with socialism, the new mission is an all-around effort that goes beyond the economic realm and holds wider significance, said Mao Yanhua, a professor of free trade at the Center for Studies on Hong Kong, Macao and Pearl River Delta at Sun Yat-sen University in Guangzhou.
Under the central government's guideline, future reforms in Shenzhen also will extend to the legal and administrative areas. Shenzhen will be given greater flexibility to carry out legal reform to improve rule of law, and the city will explore ways to improve the property ownership system in order to effectively protect property rights. The city will also create a more convenient entry and exit system at its borders and allow foreign permanent residents to launch science and technology enterprises.
"Shenzhen will be given more freedom to leverage its legislative advantage as the special economic zone to carry out the reform in the legal and administrative system and to better define the relationship between the government and the market," Mao said.
The timing of the guideline also coincided with the ongoing trade conflicts with the United States and the turmoil in Hong Kong. Mao said that it highlighted the strategic importance for the country to refine its growth model amid rising uncertainties. "It also put forward the message that external uncertainties will not derail China's growth and its development strategy," he added.
The new status of Shenzhen also helped clarify the country's Guangdong-Hong Kong-Macao Greater Bay Area initiative, as well as Shenzhen's role in the initiative and its relationship with Hong Kong and Macao, experts said.
"It is not intended to undermine Hong Kong's status. It is about drawing on the cities' strengths, pooling their resources and better integrating with one another. A better Shenzhen will help broaden Hong Kong's development prospects and vice versa," Guo said.
Rico Chan, head of global law firm Baker McKenzie's real estate group in Greater China and Asia, who also leads the firm's Greater Bay Area efforts, said the new guideline helps provide further clarity on China's policy direction and reaffirms the country's commitment to developing the Greater Bay Area into a world-class city cluster under the overall framework of one country, two systems.
"The success of the Greater Bay Area is largely reliant on the ease of cross-border flow of capital, talent, trade and investments among the eleven cities. Hence, any regulatory developments that can help foster such an intercity ecosystem will naturally be welcomed by all businesses," Chan said.
Since Shenzhen is expected to receive more favorable government policies to cement its role as the paramount technology and innovation hub of the Greater Bay Area, this will help boost foreign investors' confidence in the city while bringing more business opportunities for them, said Hannah Cassidy, a partner for financial services regulatory matters at global law firm Herbert Smith Freehills in Hong Kong.
"Bold legal reforms will continue to evolve so as to support and strengthen this overarching goal. As such, foreign investors and companies can expect a more robust commercial and legal environment in Shenzhen, with fewer restrictions on the free flow of capital and information, designed to inspire the future development of the nation," she said.
Sheena Loi, a senior consultant for technology, media and telecommunications at the same law firm, said, "Foreign investors and companies can expect many opportunities for investment in the near term as Shenzhen continues to devote more resources to spur further development in 5G, artificial intelligence, data centers, advanced communication devices and also medical instruments."
Source: https://www.chinadaily.com.cn/a/201909/10/WS5d770aa3a310cf3e3556ab64.html