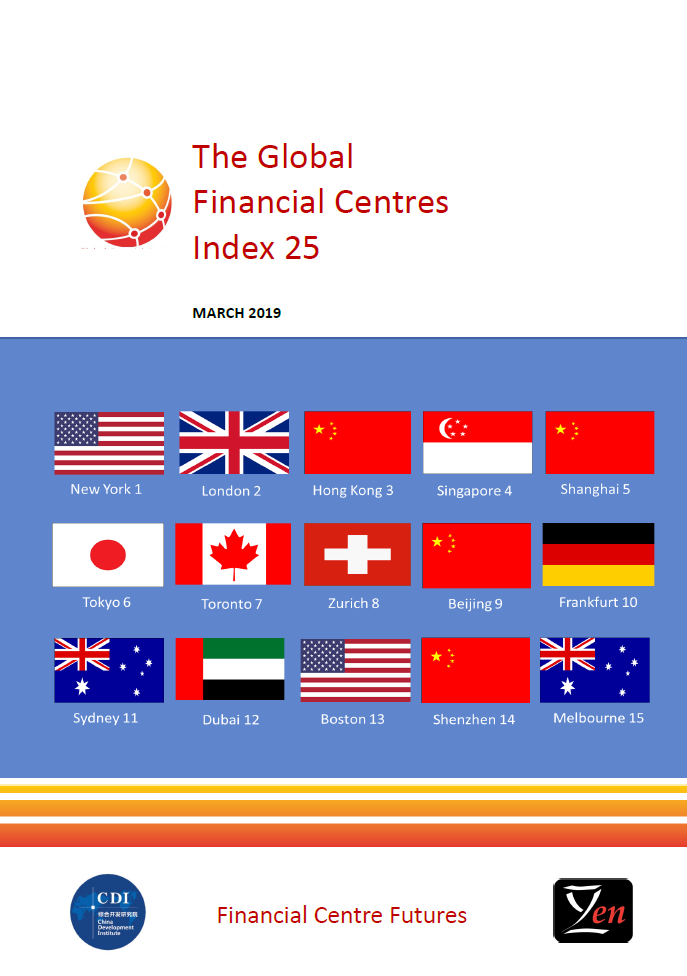 Click here to download the full report as PDF.
On March 11, Z/Yen and CDI jointly released the twenty-fifth edition of the Global Financial Centres Index (GFCI 25) during the Global Financial Forum in Dubai.
In GFCI 25, we researched 112 centres for this edition, with 102 centres in the main index and 10 in the associate list.
GFCI 25 was compiled using 133 quantitative measures provided by third parties including the World Bank, The Economist Intelligence Unit, the OECD, and the United Nations, with the combination of 29,065 financial centre assessments provided by respondents to the GFCI online questionnaire.
New York remains in the first place in the index, just seven points ahead of London. Hong Kong is only four points behind London in third and Singapore remains in fourth place. Shanghai remains ahead of Tokyo in fifth place in the index although Tokyo gained ten points in the ratings. Toronto gained four places to seventh. Zurich, Beijing, and Frankfurt remained in the top ten.
Most Asia/Pacific Centres performed well. There has been a strong trend of Asia/Pacific centres improving over several years. The top eight centres in the region are now in the top fifteen centres in the whole index.
9 financial centres across the Chinese mainland were included in the main index, namely Shanghai, Beijing, Shenzhen, Guangzhou, Qingdao, Tianjin, Chengdu, Hangzhou and Dalian. Despite their ratings growth, Beijing, Shenzhen, Tianjin, Chengdu, and Dalian witnessed slight decrease in their rankings.