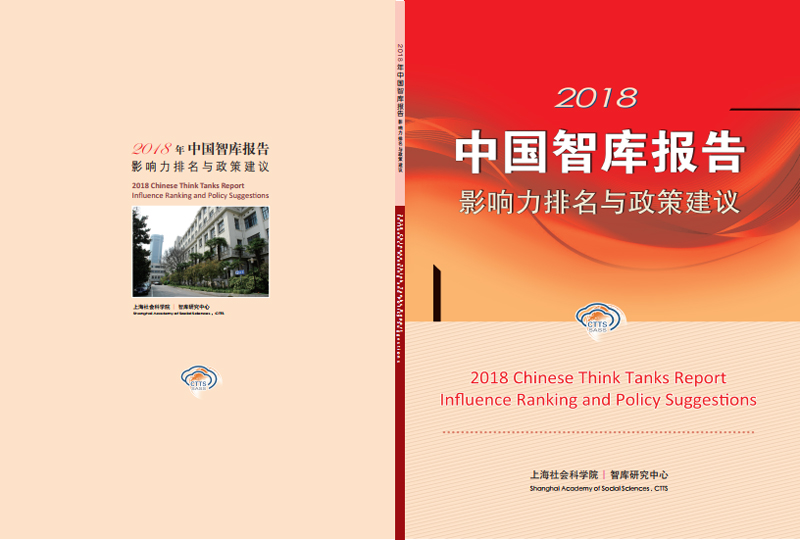 2018 Chinese Think Tanks Report: Influence Ranking and Policy Suggestions was launched on February 1, 2019, showcasing Top 50 Chinese Think Tanks (Comprehensive Influence). China Development Institute (CDI) ranked 15th place on Comprehensive Influence, 14th on Decision-making, and 2nd on Social Think Tank (Departmental Influence) respectfully, with rising places on Social Influence and International Influence.
Center for Think Tank Research of Shanghai Academy of Social Sciences (CTTS) has launched yearly "Chinese Think Tank Report" since 2014. This edition is themed "40 years of reform and opening up, and high-quality development of think tanks", based on the development status quo of Chinese think tanks and actual needs engendered by China's reform, innovation, transformation, and development of think tanks, aiming to shed lights on how to increase influence and international status of new-type Chinese think tanks.
Through surveys, Chinese think tanks are evaluated and ranked from comprehensive influence, itemized influence, departmental influence, and professional influence, striving to observe and assess their development situations, characteristics, and influences in an all-around, scientific, objective, and accurate manner.
The 2018 influence evaluation results of Chinese think tanks are given as follows:
Top 20 Chinese Think Tanks (Comprehensive Influence)
| | | |
| --- | --- | --- |
| Ranking in 2018 | Think Tank Name | Ranking in 2017 |
| 1. | Chinese Academy of Social Sciences (CASS) | 1 |
| 2. | Development Research Center of the State Council | 3 |
| 3. | Chinese Academy of Sciences (CAS) | 2 |
| 4. | Chinese Academy of Engineering (CAE) | 5 |
| 5. | Academy of Macroeconomic Research, NDRC | 7 |
| 6. | China Center for International Economic Exchanges (CCIEE) | 11 |
| 7. | Party School of the CPC Central Committee (China Academy of Governance) | 4 |
| 8. | China Institutes of Contemporary International Relations | 6 |
| 9. | National School of Development, Peking University | 12 |
| 10. | China Institute of International Studies | 10 |
| 11. | PLA Academy of Military Sciences | 8 |
| 12. | Chinese Academy of International Trade and Economic Cooperation, MOFCOM | 19 |
| 13. | Shanghai Institutes for International Studies | 16 |
| 14. | National Institute for International Strategy, CASS | 13 |
| 15. | China Development Institute | 15 |
| 16. | State Information Center | 17 |
| 17. | National Defense University PLA China | 9 |
| 18. | Chinese Academy of Fiscal Sciences | 18 |
| 19. | National Academy of Development and Strategy, Renmin University of China | 24 |
| 20. | Center for World Studies, Xinhua News Agency | 22 |
Top 15 Chinese Think Tanks (Decision-making Influence)
| | | |
| --- | --- | --- |
| Ranking in 2018 | Think Tank Name | Ranking in 2017 |
| 1. | Development Research Center of the State Council | 2 |
| 2. | Chinese Academy of Social Sciences (CASS) | 1 |
| 3. | Chinese Academy of Sciences (CAS) | 3 |
| 4. | Academy of Macroeconomic Research, NDRC | 5 |
| 5. | Chinese Academy of Engineering | 7 |
| 6. | China Center for International Economic Exchanges (CCIEE) | 9 |
| 7. | Party School of the CPC Central Committee (China Academy of Governance) | 4 |
| 8. | China Institutes of Contemporary International Relations | 6 |
| 9. | PLA Academy of Military Sciences | 8 |
| 10. | National Institute for International Strategy, CASS | 10 |
| 11. | National Defense University PLA China | 12 |
| 12. | China Institute of International Studies | 13 |
| 13. | State Information Center | 16 |
| 14. | China Development Institute | 11 |
| 15. | Shanghai Institutes for International Studies | 14 |
Top 20 Chinese Think Tanks (International Influence)
| | | |
| --- | --- | --- |
| Ranking in 2018 | Think Tank Name | Ranking in 2017 |
| 1. | Chinese Academy of Social Sciences (CASS) | 1 |
| 2. | Development Research Center of the State Council | 4 |
| 3. | China Institutes of Contemporary International Relations | 3 |
| 4. | Chinese Academy of Sciences (CAS) | 2 |
| 5. | China Institute of International Studies | 5 |
| 6. | China Center for International Economic Exchanges (CCIEE) | 15 |
| 7. | National Institute for International Strategy, CASS | 10 |
| 8. | Shanghai Institutes for International Studies | 12 |
| 9. | Institute of International and Strategic Studies, Peking University | 9 |
| 10. | Chinese Academy of International Trade and Economic Cooperation, MOFCOM | 13 |
| 11. | China Center for Contemporary World Studies | 17 |
| 12. | CCG | 19 |
| 13. | Academy of Macroeconomic Research, NDRC | 11 |
| 14. | Chinese Academy of Engineering (CAE) | 6 |
| 15. | National School of Development, Peking University | 18 |
| 16. | PLA Academy of Military Sciences | 8 |
| 17. | Party School of the CPC Central Committee (China Academy of Governance) | 7 |
| 18. | Center for World Studies, Xinhua News Agency | 16 |
| 19. | Chongyang Institute for Financial Studies, Renmin University of China | 20 |
| 20. | China Development Institute | |
Top 5 Social Think Tank (Departmental Influence)
| | | |
| --- | --- | --- |
| Ranking in 2018 | Think Tank Name | Ranking in 2017 |
| 1. | China Center for International Economic Exchanges (CCIEE) | 1 |
| 2. | China Development Institute | 2 |
| 3. | China Institute for International Strategic Studies | |
| 4. | China Institute for Reform and Development | |
| 5. | CCG | 5 |