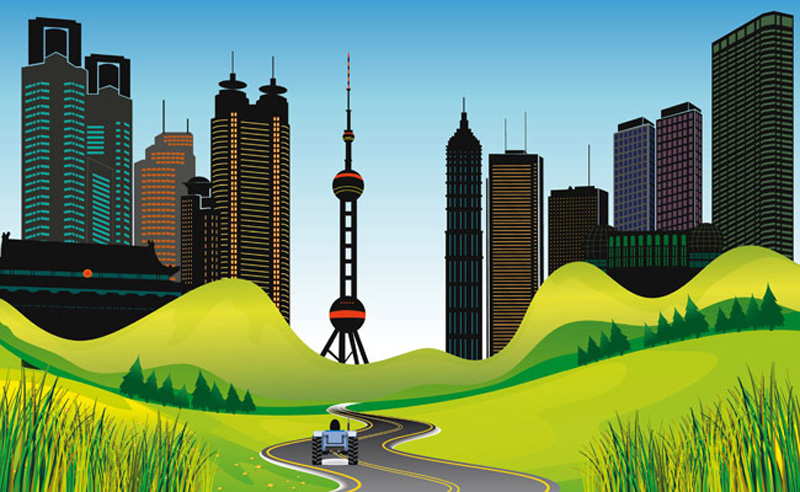 Author: Fan Gang, President of CDI
Editor's Note: China's central government has made important adjustments to the urbanization strategy, shifting from the strategy to develop small towns to developing large cities. Crucial to building big cities and large city clusters is the integration of transport and public services.
In the past 40 years of reform and opening up, China has experienced the largest and fastest industrialization and urbanization process in world history. At present, only about 55% of Chinese live in cities, and the process of urbanization is far from over. Recently, during the China International Import Expo, President Xi Jinping proposed to support the regional integrative development of the Yangtze River Delta as a national strategy. Recently, the Central Committee of the Communist Party of China and the State Council issued the "Opinions on Establishing a New Mechanism for More Effective Regional Coordination and Development", which mandated the integrative development of major regions driven by the Beijing-Tianjin-Hebei cluster, Yangtze River Delta cluster, Guangdong-Hong Kong-Macao Greater Bay Area and Chengdu-Chongqing cluster. These recent developments signal a strategic shift from encouraging the development of small towns to that of big cities and large city clusters.
China will form a "3+N" city cluster layout.
The polarization of China's real estate market is in essence a result of increasingly polarized population flow, which will lead to the formation of three super city clusters with a population of 100-200 million, and a number of big city clusters with a population of 30-50 million. The Beijing-Tianjin-Hebei region, the Yangtze River Delta, and the Guangdong-Hong Kong-Macao region have the potential for becoming super city clusters, while Wuhan, Zhengzhou, and the Chengdu-Chongqing region will likely see the emergence of big city clusters.
The development of big cities and large city clusters, in itself a response to people's pursuit of a better life, conforms to the current dynamics of population movement and will contribute to economy of scale and the agglomeration effect. In this process, it is crucial to have a broad vision, for it would be necessary to draw lessons from the development of other countries and proactively make city plans in line with urbanization trends. The first priority is effective transport system that enables people to work and live in separate zones or cities, thus making it possible for big cities and surrounding small towns to have different functions. This also requires that small cities and towns around big cities have different functions to avoid overlaps.
Promoting regional coordination by drawing on China's historical experience of "Imperial Commissioners" and "Provincial Governors"
To further promote the construction of large city clusters, it is imperative to solve problems of current administrative divisions for effective overall planning so that economic, industrial and research sectors within the region can complement each other in a coordinated way.
Large-scale regional planning is often hindered by administrative divisions, which requires coordination and guidance at a higher level. Compared with the joint deliberative organs such as the council of New York bay among other bay areas, effective coordination mechanisms in many domestic city clusters are yet to be formed. Measures such as holding annual joint meeting among city mayors so that they can share views on their own cities' development and explore possible solutions for integrative growth are by no means easy to achieve.
In this respect, we can draw lessons from China's historical experience: all dynasties in China have official positions such as the "Imperial Commissioner", "Governor of Two Provinces", "Governor of Guangdong and Guangxi", etc., which are responsible for coordinating work in a case-by-case approach.
By far several regional coordination mechanisms have formed in China. The State Council has set up a Beijing-Tianjin-Hebei Collaborative Development Leading Group headed by China's Vice Premier. The Yangtze River Delta and the Pearl River Delta may also require such an arrangement. Within a cluster, cities shall avoid forming similar industrial structure, but instead, develop a range of industries in different areas as well as different small city layouts to ensure coordination and complementarity.
Public services shall be enhanced for city clusters.
Strengthening the integration of public services is also crucial, including ensuring cross-regional coordination of medical services and equal access to education. It is important to minimize the influence of the household registration system and strive to achieve equal access to public services for permanent residents. This process will entail reform in economy, society and governance and will require the efforts of think tanks, research institutions and associations to jointly facilitate the sound development of urbanization.