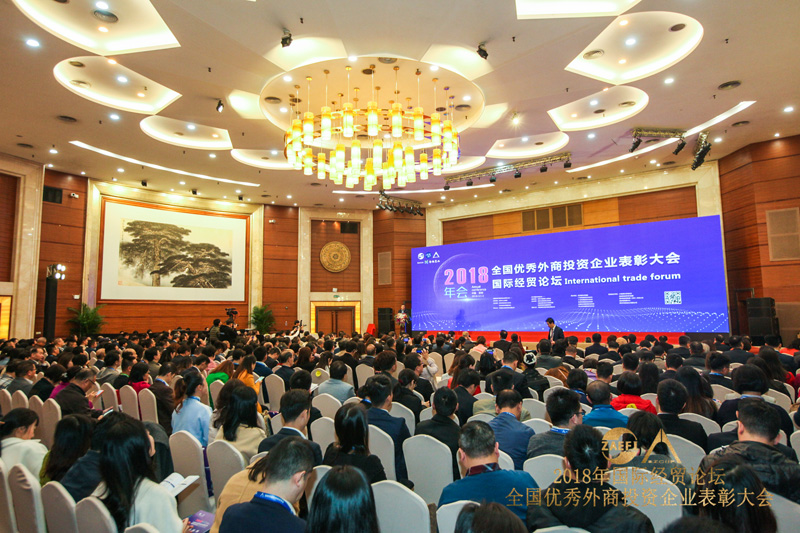 On December 11, the 2018 International Trade Forum was held in Shenzhen by China Development Institute in collaboration with Shenzhen Association of Enterprises with Foreign Investment among other institutions, where economists, entrepreneurs and government representatives held discussions on the international economic landscape, as well as opportunities and challenges for businesses amidst rising global trade tensions.
"It is important for China to find new growth momentum in reform."
Recent years have witnessed the rise of "de-globalization". It is thus imperative for China to develop a new economic growth model driven by increased productivity. Regarding the supply side, China shall prioritize the supply and allocation of labor, and reform its education and professional training sector in order to facilitate growth of higher quality in future. Regarding the demand side, China shall improve income distribution system and foster higher consumption capacity of its people to further fuel economic growth. In addition, China shall also ensure basic public services as well as equal access to these services.
—— Cai Fang, Member of the Standing Committee of the National People's Congress, Vice-President of the Chinese Academy of Social Sciences and Chairman of the Board of Directors of the National Institute for Global Strategy.
"The mobility of production factors is the key to building a global technology innovation center for the Greater Bay Area."
Currently, the Guangdong-Hong Kong-Macao Greater Bay Area faces 5 major challenges in the movement of people, i.e., difficulty for professional accreditation and restricted scope of practice, higher individual income tax in China's mainland compared to that in Hong Kong and Macao, non-portable social security, difficulty in actualizing equal treatment, and lack of supporting facilities. To address these challenges, the institutional arrangements for the movement of people in the Greater Bay Area shall be innovated, such as unilaterally recognizing the professional qualification of Hong Kong and Macao residents, extending the practice of "separate tax schemes for Hong Kong and Macao people" across the Greater Bay Area, exploring effective ways to link the social security systems of Hong Kong, Macao and the mainland, building Hong Kong and Macao Residents Services Center in the Greater Bay Area, piloting equal treatment for Hong Kong and Macao residents in the Greater Bay Area and fully capitalizing on big data to facilitate the movement of people.
—— Guo Wanda, Executive Vice President of China Development Institute.
The important role of multinationals in economic globalization.
To gain an upper hand in global competition, multinationals shall firstly establish global presence to ensure sustained supply and to establish communication with global clients, and secondly, engage in innovative cooperation in diverse dimensions, and provide more effective solutions for clients, and thirdly, ensure good service and quality commitment to win brand recognition, and fourthly, provide diverse products and one-stop services.
—— Huang Yiyun, General Manager of Dupont China Holding Co., Ltd
"Two-way" asset management competence will be a key advantage in international asset management arena in future.
For a long time in the past, China's investment in overseas assets has been lacking, and vice versa. This imbalance will be overcome with increased mobility of China's capital market. Domestic and overseas institutions shall explore different avenues of asset management in search of new systemic hedging strategies to improve resilience in investment and reduce fluctuations.
—— Sun Chen, Chief Executive of Harvest Global Investments Limited
Shenzhen shall seize the opportunity of the development of the Guangdong-Hong Kong-Macao Greater Bay Area and make China's voice heard in international rules.
Under the Belt and Road Initiative, China's foreign trade and overseas investment have maintained steady growth. China shall stand up to the new problems that have emerged in international arbitration through legislation or judicial interpretation with even more open mindset. On this front, Shenzhen is dedicated to fostering business environment in sync with international rules, such as internationalizing the governance structure, organization and scope of practice of Shenzhen's arbitration institution, in a bid to create a new pillar for international arbitration.
—— Liu Xiaochun, President of Shenzhen Court of International Arbitration and Director of Shenzhen Arbitration Commission
Shenzhen's enterprises shall improve their ability to work with international rules
An increasing number of enterprises in Shenzhen have gone global under the Belt and Road Initiative. These enterprises urgently need to familiarize themselves with local legal system, financial environment and cultural customs. Thus it is important to continue to educate enterprises to ensure their compliance with and respect for international rules, as well as their ability to protect their own legitimate rights using these rules.
—— Gao Zhan, Member of the CPPCC Shenzhen Committee, head of Shenzhen Fair Trade Promotion Administration
European enterprises maintain confidence in investing in China as business environment improves in the latter.
In 2017, European businesses have achieved robust financial performance in China, with 66% of respondent businesses reporting year-on-year revenue increase. Meanwhile, the steady improvement of China's business environment has boosted European investors' confidence in operating in China. As to the rising challenges posed by increased production cost, Chinese and German businesses shall deepen high-tech talent training cooperation, so as to provide technical support to cope with labor shortage and faster pace of industrialization.
—— Sven-olaf Steinke, General Manager of TüV Rheinland's electrical service in China
Businesses shall proactively conduct upgrading to cope with the negative impacts of trade frictions.
As China-US trade frictions continue to ferment, global business operations and investment will face uncertainties. Enterprises shall keep a level head and increase R&D investment in big data and other advanced technologies to boost industrial upgrading, reduce cost and improve efficiency, so as to avert the risks posed by trade frictions.
—— Kang Yong, Chief Economist at KPMG China
The Guangdong-Hong Kong-Macao Greater Bay Area has huge potential, and business complementarity and cooperation shall be encouraged.
The economy in the Greater Bay Area has great potential for growth. Different cities and businesses within the Greater Bay Area shall seek effective cooperation based on mutual complementarity. The Federation of Hong Kong Industries will help its member enterprises in their upgrading process, develop new innovative technology platforms, provide businesses with consulting services and match-making opportunities, and facilitate cooperation between experienced industrialists and start-ups.
—— Sun Qilie, Honoary President of Federation of Hong Kong Industries