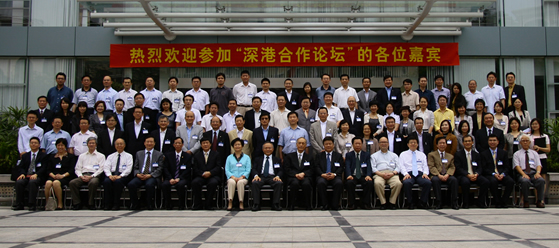 The third Shenzhen-Hong Kong Co-operation Forum, jointly organised by the Central Policy Unit (CPU) of the Government of the Hong Kong Special Administrative Region, the Shenzhen Special Economic Zone Research Association and the China Development Institute of Shenzhen, was held at the China Development Institute in Shenzhen.

The forum was initiated by the research institutions of Shenzhen and Hong Kong, with the aim of strengthening non-official exchanges between the two places in additional to government official interactions. The first two forums were held in 2006 and 2007 in Shenzhen and Hong Kong respectively, and have made important contributions in promoting co-operation between the two places. The theme of today's forum was "Shenzhen-Hong Kong Co-operation under the Economic Crisis". The forum examined the development of the financial tsunami and its impact on Shenzhen and Hong Kong. Around 100 participants from Hong Kong and Shenzhen, including experts from various fields, academics, business persons and government officials, were invited to join the forum.
The Head of the CPU, Professor Lau Siu-kai, and the Deputy Mayor of Shenzhen, Mr Lv Ruifeng, delivered opening addresses at the forum.

Participants of the forum were divided into four groups and had in-depth discussions on how Shenzhen and Hong Kong could further co-operate in areas such as employment, support for small and medium-sized enterprises, education and manpower training, and social welfare, in order to combat the crisis and grasp the opportunities.
Organizers from both Shenzhen and Hong Kong attach great importance to the Shenzhen-Hong Kong Co-operation Forum, and hope that the forum can continue in the future to further enhance co-operation and exchanges between the two places.