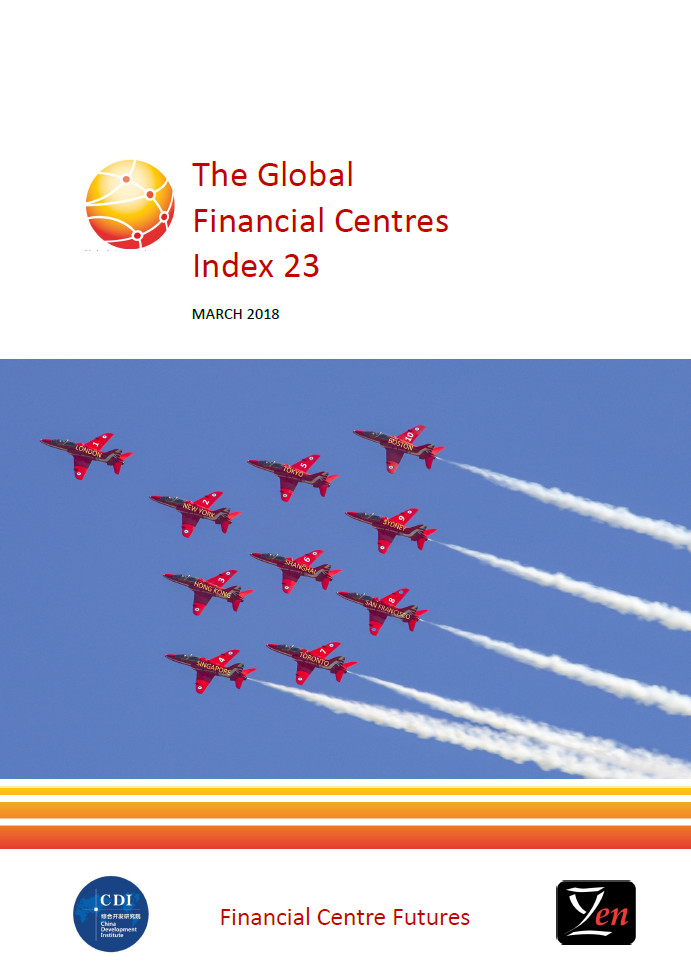 Click here to download the full report as PDF.
Z/Yen Partners and CDI published the twenty-third Global Financial Centres Index (GFCI 23) on the Launch Conference which was held in Qingdao on March 26.
The GFCI rates 96 financial centres in current issue. There is an overall increase in confidence for the leading centres with the top 25 centres all rising in the ratings.
London, New York, Hong Kong, Singapore and Tokyo remain the five leading global financial centres. The gap between London and New York in ratings closed to one point on a scale of 1,000. London's rating rose less than the other four top centres. There is now less than 50 points between the top five centres.
The number of financial centres across the Chinese mainland in the main index has increased from 7 to 8 with the addition of Tianjin from the associate centres list. Among them, Shanghai remains at the 6th place. Ranking 11th, Beijing fell slightly by one place, but the gap between Beijing and Boston, which ranks 10th, in ratings was only one point on a scale of 1,000. Shenzhen, Guangzhou, Qingdao and Chengdu rose 2, 4, 14, and 4 places respectively. The newcomer Tianjin ranks at the 63th place. Dalian continuously dropped to 96th.
Mark Yeandle, Director of Z/Yen Partners and the author of the GFCI, said "All the top centres have risen in the ratings. London remains on top despite Brexit concerns but rose less than any other centre in the top fifteen."
Zhang Jiansen, Research Director of Finance and Modern Industry Department of CDI, said "Competitiveness of the Chinese financial centres will be further unleashed with the gradual reform and opening-up of China's financial market.