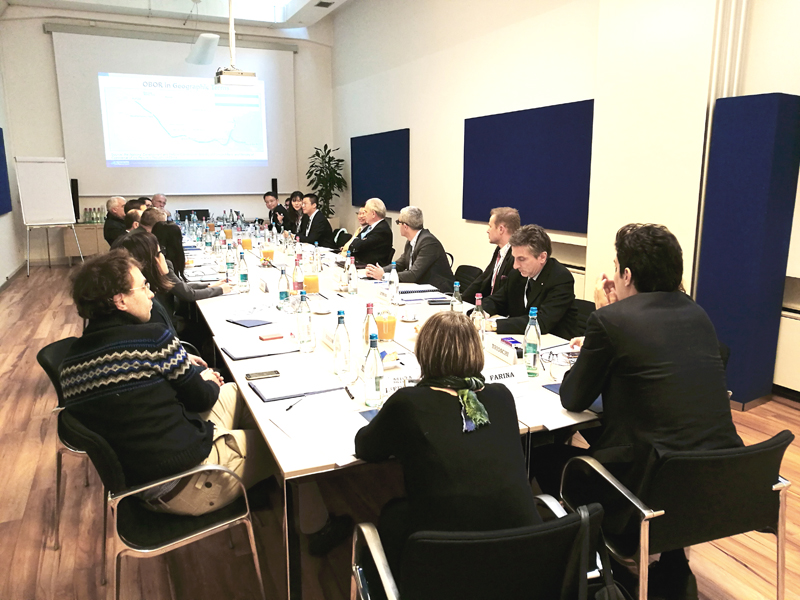 OBOR Roundtables were held jointly by CDI and The European House-Ambrosetti and The Hellenic Foundation for European & Foreign Policy in Italy and Greece respectively. During the visits in three cities including Milan and Rome in Italy and Athens in Greece from December 4 to 11, 2016, CDI also had roundtable discussions with The Italy-China Foundation, Borsa Italiana, The Italian Banking Association, Athens Exchange Group and Eurobank Ergasias.
In the discussion on the OBOR with Ambrosetti in Milan on December 5, CDI delegation elaborated on China's opening-up strategy, China's investment in the EU, China's economy, the RMB exchange rate, Shenzhen-Hong Kong Stock Connect, the opening-up of China's capital market and other issues. More than 30 representatives from Italian think tanks and businesses raised questions about the Silk Road Fund and logistic connectivity along the Belt and Road. They showed interest in participating in the OBOR, but they hoped to know more about the Chinese demands, participation channels and cooperation approaches. Therefore, it is imperative for the two parties to enhance the communications on the OBOR.
CDI delegation also met with more than 20 think tank experts, business managers and government officials in the roundtable discussion with The H-ellenic Foundation for European & Foreign Policy in Athens on December 9. It is noted that many Chinese enterprises, such as Huawei, ZTE and Fosun, are now expanding their business network in Greece. For example, China COSCO Shipping Group has acquired 51% of Piraeus Port. It is agreed that Greece has the historically honored ports and and shipbuilding industry which are attractive to foreign investment. In addition, Greece is willing to leverage the OBOR investment opportunities.
During the visits to other institutes, it is also found that experts and business managers from Italy and Greece also paid close attention to the opening-up of China's capital market such as Shanghai-Hong Kong Stock Connect, Shenzhen-Hong Kong Stock Connect.
The activities expanded investment opportunities in the countries along the Belt and Road. Italy has expressed interest in OBOR projects concerning finance and logistics, while Greece is looking forward to introducing Chinese capital to airport, hot spring, telecommunications, retailing, etc. Hence, Chinese enterprises can tap more investment opportunities in the European market.