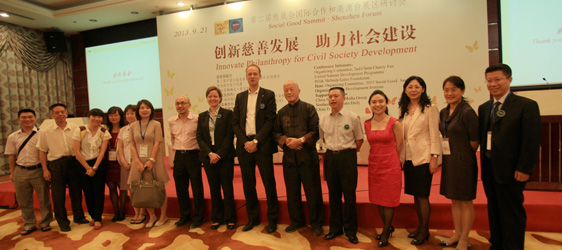 Date:Sep 21, 2013
Venue:Shenzhen
The 2nd China Charity Fair (CCF) was held in Shenzhen from September 21-23. It is the first and most important event in the nonprofit sector of China, hosted by Ministry of Civil Affairs. As the so-organizer of CCF, CDI invited 30 influential organizations from overseas charitable sector to exhibit their best practices in the newly launched International Cooperation Section.
On Sep 21, the Global Good Summit, co-sponsored by United Nations Development Programme (UNDP) and Bill& Melinda Gates Foundation was carried out on the theme of"Innovate Philanthropy for Civil Society Development". Nearly 400 representatives from 220 organizations have attended the Summit.
China, though lagging behind most of developed countries, has witnessed a giant leap in the progress of modern nonprofit sector over the past decades. While it is weighing more and more in balancing social development, the emerging sector runs into some problems. Therefore, a thorough study on the international best practices will be of great benefit in exploring feasible approaches that fit the Chinese context. Three topics were discussed in the Summit: New Technology: Innovation for Philanthropy, The Role of Business in Civil Society Construction, The Operating Environment and Legal System of China's philanthropy and social organizations.
Click here to download conference brochure