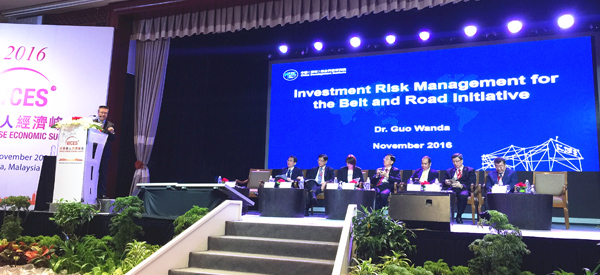 Executive Vice President Dr. Guo Wanda gave a presentation on the investment risk management for "One Belt One Road" initiative (OBOR) during the 8th World Chinese Economic Summit themed on "China–ASEAN: Realizing Opportunities, Strengthening Partnership", which was held in Malacca, Malaysia from November 16 to 17 2016. With experts from China, Pakistan, Malaysia, Singapore, Thailand, Kuwait, and Britain, the panel had a heated discussion on OBOR new business and investment opportunities and challenges so as to further strengthen China-ASEAN cooperation.
In his speech, Dr. Guo noted that Chinese businesses will be confronted with both opportunities and risks when investing OBOR projects and Chinese enterprises should consider whether the recipient region can benefit from the OBOR investment and use Chinese Diaspora network to reduce the potential risks.
The World Chinese Economic Summit (WCES) is a flagship event created by The Asian Strategy & Leadership Institute (ASLI), which is also one of the biggest global economic forums in Malaysia. Since 2009, CDI has been working as a partner of the event, with its representatives participating in the forum to share their views on Chinese economy. In 2013, CDI was awarded by former Malaysian Prime minister Mahathir Mohamad for its great support to the forum.