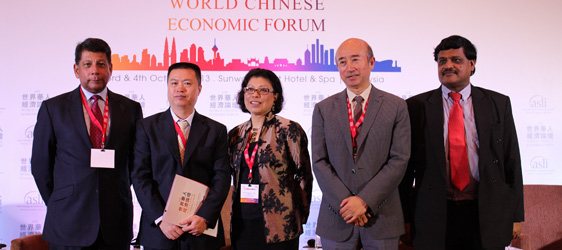 The 5th World Chinese Economic Forum was held on 3rd and 4th in Kuala Lumpur, Malaysia. Dr. Guo Wanda, the Executive Vice President, made a presentation on the China's Economy: Rebound in Short Run And its Growth Trend in Long Run.
The forum is co-sponsored by the Malaysian International Trade and Industry Ministry, the Asian Strategy and Leadership Institute and the China International Trade Promotion Committee Liaison. Former Malaysian Prime Minister Mahathir Mohamad, Chinese Ambassador to Malaysia Chai Xi have attended the Forum and made speeches. 500 representatives from government, business and academia have had extensive discussion on China's partnership with the world. China-ASEAN relationship and issues related to education, finance service, and enterprise social responsibility.
During the conference, Mr. Mahathir presented a "Supporting Organization Award of the World Chinese Economic Forum" to CDI.