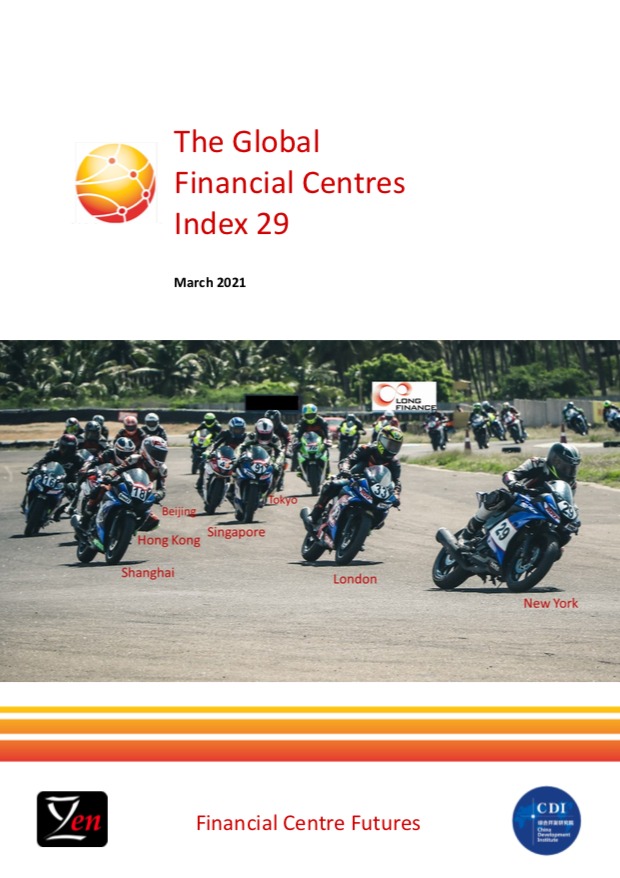 Click here to download the full report as PDF.
On March 17, Z/Yen and CDI jointly released the twenty-nineth edition of the Global Financial Centres Index (GFCI 29) in Shenzhen, London and Hongkong.
We researched 126 centres for this edition of the Global Financial Centres Index (GFCI 29). The number of financial centres in the main index has increased from 111 to 114 with the addition of Berlin, Trinidad & Tobago, and Bogota. There are 12 associate centres awaiting potential inclusion in the main index.
GFCI 29 was compiled using 143 instrumental factors. These quantitative measures are provided by third parties including the World Bank, The Economist Intelligence Unit, the OECD, and the UN.
New York retains first place in the index. London fell to only one point ahead of third place Shanghai. Hong Kong moved up a place to fourth, one point behind Shanghai, with Singapore in fifth position. Tokyo dropped three places from fourth to seventh. Frankfurt replaced San Francisco in the top 10 in this edition, gaining seven rank places, perhaps benefiting from the exit of the UK from the European Union.
The average rating of centres in the index dropped only 3.5 points (-0.55%) from GFCI 28 (41 points from GFCI 27 to GFCI 28), which may indicate more confidence in the financial system than in the first stages of the covid-19 pandemic.