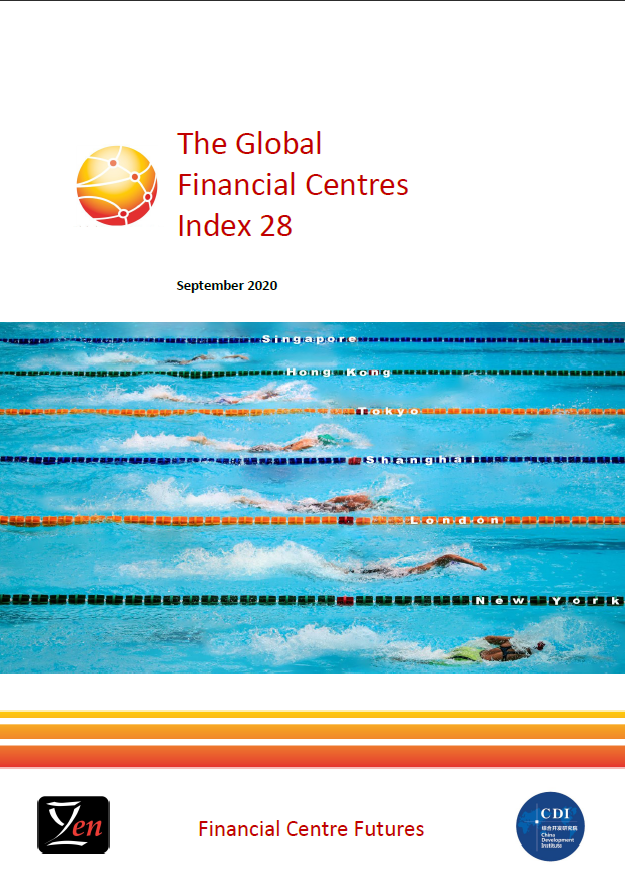 Click here to download the full report as PDF.
On September 28, Z/Yen and CDI jointly released the twenty-eighth edition of the Global Financial Centres Index (GFCI 28) in Shenzhen and Seoul.
In GFCI 28, we researched 121 centres for this edition of the Global Financial Centres Index (GFCI 28). The number of financial centres in the main index has increased from 108 to 111 with the addition of Bratislava, Xi'an, and Wuhan, though new entrants to the index take some time for their position in the index to settle. There are 10 associate centres awaiting potential inclusion in the main index.
GFCI 28 was compiled using 138 instrumental factors. These quantitative measures are provided by third parties including the World Bank, The Economist Intelligence Unit, the OECD, and the UN.
New York retains its first place in the index, although London in second place has made up ground in the ratings, now only four points behind the leader. Shanghai moved up one place to third and Tokyo dropped one place to fourth, although only one point separates them in the ratings. Similarly, Hong Kong moved up a place to rank fifth and Singapore fell one place to sixth, again with only one point separating Hong Kong and Singapore in the ratings.Shenzhen and Zurich entered the top ten in this edition, replacing Los Angeles and Geneva.
12 financial centres across the Chinese mainland were included in the main index, among them Beijing, Shanghai, Shenzhen ranked in the top 10 and followed by Guangzhou (21),Chengdu (43), Qingdao(47) and Nanjing(89).
The average rating of centres in the index has dropped 41 points (6.25%) in just one edition. The enormous economic impact of the covid-19 pandemic is not the only reason. Before covid-19 uncertainty was already rising sharply about the future of international trade, technology, the future of workplaces, climate change, and geopolitical stability. These factors have led to significantly increased volatility in our last two editions of the index.
Whileaverage ratings fell, all of the top ten centres in the index increased their ratings in GFCI 28, reversing recent trends. During the pandemic, financial services returned to big, safe, financial centreharbours. Yet the economic performance of cities with high commuter intensity, such as New York or London, has been extremely poor.