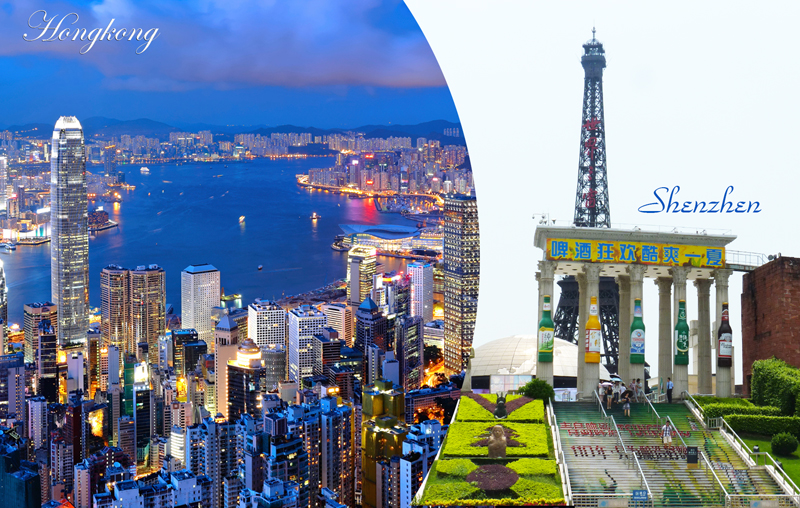 Author: Guo Wanda, Executive Vice President of CDI
Building Shenzhen into a demonstration area of socialism with Chinese characteristics is also of great importance for Hong Kong's stability and development
China's top leadership is determined to turn Shenzhen into a global benchmark city with outstanding competitiveness, innovative capacity and influence.
The recently issued Guidelines on Building Shenzhen into a Pilot Demonstration Area for Socialism with Chinese Characteristics, means that the city, which was just a small fishing village four decades ago, will be a role model for the rest of the country with regards to its business environment, rule of law, cultural advancement, social welfare and sustainable development.
Outpacing Hong Kong, Shenzhen, China's most successful special economic zone, is a modern metropolis with a population of 13 million and GDP that ranks fifth among all Asian cities.
It's fair to say that Shenzhen is an example of the Communist Party of China's successful governance, a shining example of the attainments on the road of socialism with Chinese characteristics.
As socialism with Chinese characteristics enters a new era, the CPC Central Committee has endowed Shenzhen with three new missions: to explore a new path to building a great modern socialist country, to put in place a new architecture for deepening reform and expanding opening-up across the board, and to enrich the practice of "one country, two systems".
China has been implementing an innovation-driven national strategy to realize the transition from high-speed growth to high-quality development. And innovation holds the key to Shenzhen's socio-economic development. It is innovation that will improve the city's economic structure and strengthen its growth engines.
The guidelines call for Shenzhen to speed up its efforts to realize a successful innovation-driven strategy and better engage companies and universities with research institutes by establishing itself as the core of the Guangdong-Hong Kong-Macao national science center, an international scientific and technological information center and the big data center of the Greater Bay Area.
The guidelines propose setting up a medical sciences academy with a new mechanism and strengthening basic research in 5G, artificial intelligence, cyberspace and life sciences.
To meet these goals, Shenzhen will need to attract high-caliber talent from around the world, who will add to its vitality and competitiveness in innovation.
Top universities and basic research are necessary to support innovation capacity, so Shenzhen has in recent years put in place a host of major innovation carriers and platforms, which have boosted basic research and accelerated the integration of the research endeavors of universities and research institutes.
The guidelines state that Shenzhen should build a modern industrial system, boost strategic emerging industries, the intelligent economy and digital economy, and create synergy between the real economy and the internet, including big data and artificial intelligence.
Shenzhen was home to 14,400 national-level tech companies in 2018, second only to Beijing. With such big names as Huawei, ZTE, Tencent, BYD and DJI, Shenzhen's high-tech industry waves a flag for the whole country. However, Shenzhen's remarkable achievements in innovation are a result of globalization and represent a path for the future development of China.
The guidelines emphasizes that the capacity of the financial sector to serve the real economy should be strengthened by improving public offerings on the ChiNext stock platform for growing high-tech companies, perfecting financing merger and acquisition institutions, and creating conditions for reform of the registration system.
These institutional innovations will support the real economy, solve the financing difficulties of private high-tech firms and lower financing costs.
Born out of reform, Shenzhen needs to again be a pioneer in the deepening of all-around reform and opening-up by establishing an open economic system with international standards. It is a must for any top metropolis to have a first-class business environment, which requires clear, predictable and assessable legal and policy systems.
Therefore, to better connect with international markets, Shenzhen should increase the transparency of rule of law and law-based administration.
Reforms in economic, social and cultural systems are also needed to boost opening-up, high-quality development and cultural and ethical progress. The guidelines offer a list of reforms Shenzhen is expected to carry out, including reforms of State-owned enterprises, foreign exchange, regulation and digital government.
These reforms will enable the city to lower institutional transaction costs, create a predictable world-class business environment and unleash reform dividends.
Shenzhen will work to combine tech innovation with system innovation, change systems and institutions that are not conducive to innovation and set up incentive mechanisms to support entrepreneurs' innovation efforts.
In terms of sustainable development, the guidelines urge Shenzhen to explore institutional innovation for building an ecological civilization, realize coordinated development of its production, living and ecological spaces, promote green consumption, green industries and a circular economy, and build itself into a sponge city designed to use rainwater in an ecologically friendly way.
It's a basic State policy of China to implement "one country, two systems" in the Hong Kong and Macao special administrative regions. Since Shenzhen is adjacent to Hong Kong, residents of both cities have frequent exchanges and visits.
A survey by the Hong Kong Planning Department shows that Shenzhen is Hong Kong residents' principal destination on the Chinese mainland and that as many as 220,000 residents of Hong Kong visit Shenzhen every day. There are 140,000 permanent Hong Kong residents living in Shenzhen.
The guidelines propose to give resident treatment to Hong Kong and Macao permanent residents who live and work in Shenzhen, covering investment, employment, education, senior care, housing purchase and social security. By solving these real difficulties, these groups will have a tangible sense of gain.
The guidelines also state that Shenzhen should further open up toward Hong Kong and Macao, facilitate the flow of talent, capital, technology and information, promote cooperation in healthcare, education and culture, build an international passenger liner port in an orderly fashion and adopt more inclusive talent and exit-entry administration policies.
Building Shenzhen into a demonstration area of socialism with Chinese characteristics is of great importance to Hong Kong's stability and development since it is sure to offer more opportunities to Hong Kong's young people and expand its development space.