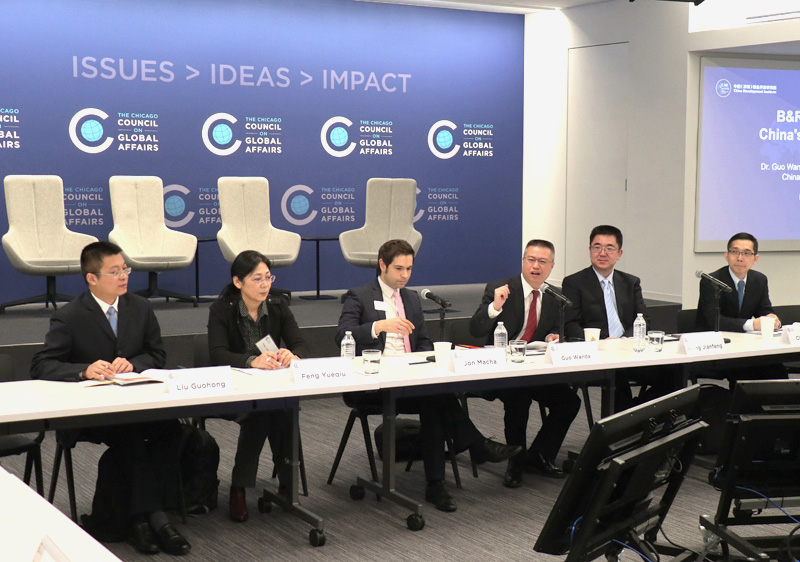 Shenzhen Financial Centre International Promotion Tour was jointly held by CDI, Chicago Council on Global Affairs and Asia Pacific Foundation of Canada. With the purpose of introducing the circumstance of China development and promoting Shenzhen Financial Centre on the world stage, CDI delegation paid visits to three cities including Chicago, San Francisco and Vancouver from December 10 to 17.
On December 11, CDI and Chicago Council on Global Affair jointly hosted a seminar themed on "China is changing the future of the world" in Chicago. In the seminar, CDI delegates deemed that the international cooperation model should encourage overseas companies' entry to China and Chinese companies' expansion abroad with the main focus on the "Belt and Road" Initiative. On one hand, the cooperation seeks the mutual benefits with countries along the "Belt and Road" through promoting the cooperation on infrastructure construction, public education, policy making and etc. On the other hand, the "Belt and Road" Initiative encourages to integrate national strategies and plans with developed countries. The other participants had profounder understanding on the "Belt and Road" Initiative through the seminar.
CDI delegation visited Asia Pacific Foundation of Canada and jointly hosted "RMB Internationalization under the 'Belt and Road' Initiative seminar with them on December 15 in Vancouver. With a special focus on the prospect of RMB Internationalization, CDI delegates noted that the RMB rates met significant fluctuation with the growth of China's oversea investment, which would increase risk of Chinese companies' oversea development and domestic financial security. However, the increased effective exchange rate of RMB reflects good market requirement.
The tour expanded the business connection with international financial institutes and enhanced the business integration. Moreover, through seminars, participants from different countries showed their own perspectives on the 'Belt and Road' Initiative.