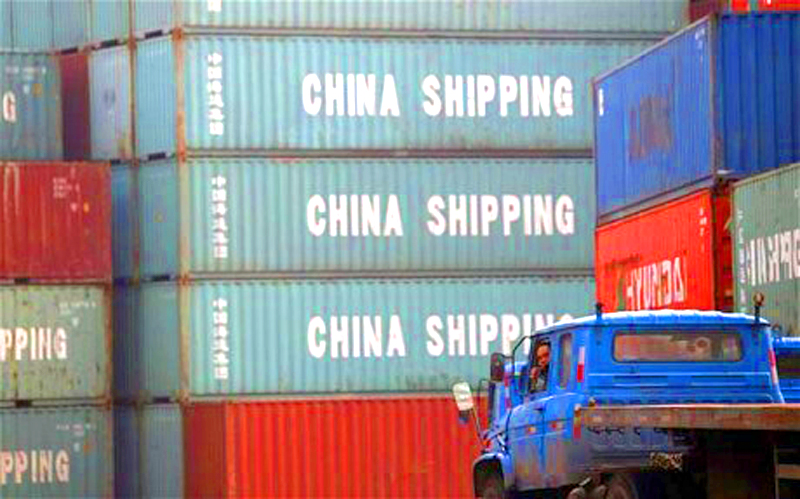 Growth was stable but a bit lower in October. Industrial output was up 5.9% y/y, up only by 0.1 pps from September. Investment rose 8% y/y, having been rising for three consecutive months, and up 5 pps compared to the lowest rate in July. State investment is accelerated to counteract other negative growth factors.
Retail sales of consumer goods were up 8.6% y/y in nominal terms in October, down 0.4 pps from Q3, only up 0.1 pps from the lowest rate in May. Its real growth rate was 6.5% y/y, down 0.9 pps from Q3, reaching the lowest rate since this cycle of economic slowdown.
Despite of trade war, trade is booming. Exports rose 20.1% y/y, up 9.8 pps from Q3. Imports rose 26.3% y/y, up 7.3 pps from Q3. Trade surplus to the US widened in particular, possibly thanks to the strong dollar, reached 218.1 billion yuan in October, and rose 23.9% y/y.
Prices growth is expected to go downwards with the current non-loosened monetary policy. In October, CPI rose 2.5% y/y, same rate as September. The ex-factory price index of industrial outputs and PPI grew 3.3% and 4% y/y, down 0.3 and 0.2 pps from September respectively.
In the end of October, M2 was up 8% y/y, down 0.3 pps from September. M1 rose 2.7% y/y, down 1.3 pps from September, reaching new low since this downturn cycle, having already been lower than the bottom in last cycle in March 2015. However, the trend is still fast declining. Central bank has the incentive not to lower interest rate to keep RMB afloat.
Infrastructure investment growth rate had its first rise in October this year. In particular, it rose 3.7% y/y, up 0.4 pps from September. This has been shown in recent intensive announcements for new openings and approvals of mega-projects, such as speed railway. Chinese government's relative low public debt at 47.6% of GDP with its international peers made such investment possible and sustainable for a while. Stronger monitoring by central government over local government spending may improve infrastructure investment efficiency. The low central government debt also makes tax reduction possible, as it has announced on November 1st to reduce value added tax rate for private firms, SMEs, and high-tech companies. Both infrastructure investment and tax cut will generate future growth, and the former will have a boost to the economy even in a short term.